arXiv:hep-th/9802001v1 31 Jan 1998
---
`D-branes' can be described simply as boundary conditions in perturbative string theory. Starting with a closed string theory, it is consistent to ask that there be open string sub-sectors of the theory. A D-brane is simply a place where open strings can end.
For example, a D5-brane may be defined by saying that within a closed string theory propagating in ten dimensional spacetime (x0,x1,….,x9), strings can end at a point in the (x6,x7,x8,x9) space, say at:
(x6=0,x7=0,x8=0,x9=0)
We have thus told the theory that there are string endpoints anywhere in the six dimensional space-time satisfying that equation. This is the space with coordinates
(x0,x1,x2,x3,x4,x5)
This is the world-volume of a D5-brane. It is a five dimensional hyper-surface in the theory which propagates in time x0, thus sweeping out a six dimensional space-time.
It is easy to see that one can define a Dp-brane, where p is -1 to 9, by placing boundary conditions as follows:
(xp+1=0,…,x9=0)
The string endpoints thus define a p+1 dimensional world-volume in the directions
(x0,…,xp)
One of the most straightforward consequences of this definition of D-branes is that they are dynamical objects which can fluctuate.
This is because they couple to closed strings: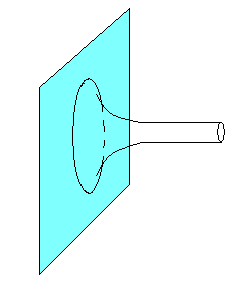 Remembering that closed strings contain a description of gravity, we see that D-branes are dynamical.
Another important property of D-branes is that they act as the fundamental sources of the certain fields in string theory.
All closed strings have the fields gmn, Bmn and f in their spectrum. These fields come from the (Neveu-Schwarz)2 sector.
The closed string itself is the source of the anti-symmetric tensor Bmn = B(2). The two dimensional string world sheet couples to it.
There are other anti-symmetric tensor fields in the (Ramond)2 sector:
Type IIB theory also has a family of antisymmetric tensor fields A(0), A(2), A(4), A(6) and A(8), for which the D-1-, D1-, D3-, D5-, and D7-branes are sources.
Type IIA instead has a family of anti-symmetric tensor fields A(1), A(3), A(5), A(7) and A(9), for which the D0-, D2-, D4-, D6-, and D8-branes are sources.
A highly important fact in string theory and duality studies is that D-branes, as sources of these fields, carry the smallest charges possible.
Another property of the D-brane that we need is the fact that it breaks half the supersymmetry, revealing itself to be a BPS state of the theory. See Later.
When describing the massless fields in a string theory with a D-brane present the massless modes may be described in two sectors:
ym-½|0>, m = 0,...,p
These modes represent fluctuations of the D-brane parallel to its world-volume.
The modes describe a vector Am, under the SO(1,p) Lorentz group of the world-volume theory.
For a single D-brane, Am is the vector of a U(1) gauge theory.
ym-½|0>, m = p+1,…,9
These modes represent fluctuation of the D-Brane transverse to its world-volume.
From the point of view of the world-volume theory, these fields are scalars. In the resulting gauge theory, their expectation values describe the position of the D-brane in the transverse space.
Imagine a pair of D-branes. There are fundamental strings stretching between them:
These brane-brane strings do not contribute to the massless spectrum, as they are stretched, and therefore their excitations have masses proportional to their length times their tension.
If however the branes become coincident, something new happens. New massless fields enter the theory.
In particular, the new fields coming from brane-brane string modes with coordinates parallel to the world-volume give extra contributions to the number of vectors in the theory.
For N coincident branes, the gauge symmetry gets enhanced to U(N).
There are also cases where non-orientable strings are also important. In that case, objects called `Orientifold planes' are included, and the gauge symmetry is enhanced to SO(N).
There are also N scalars coming from the modes with coordinates transverse to the world-volume. These are the positions of the N branes in the transverse space.
The process of giving some of the scalars expectations values -corresponding to moving the branes away from each other, in the transverse space- will break the gauge symmetry from U(N) to a subgroup. This is the Higgs mechanism.
So we see that the motion of branes in space-time may be described by the simple dynamics of the gauge theories which arise on their world volumes.
Notice that these gauge symmetries which arise when D-branes are coincident can be thought of as the result of the internal degree of freedom at every point on the world-volume that a fundamental string has in deciding which of the U(N) identical branes it can end on.
We can thus describe each massless mode succinctly by introducing a Chan-Paton matrix, l, an N x N Hermitian matrix, e.g. lym-½|0>, so Am is thus a generator of U(N).
We will soon return to our discussion of duality and see how D-branes can be used as a sharp tool to learn many things.

We must first go on to study some other important objects which enter the story.
---
Next Page
---